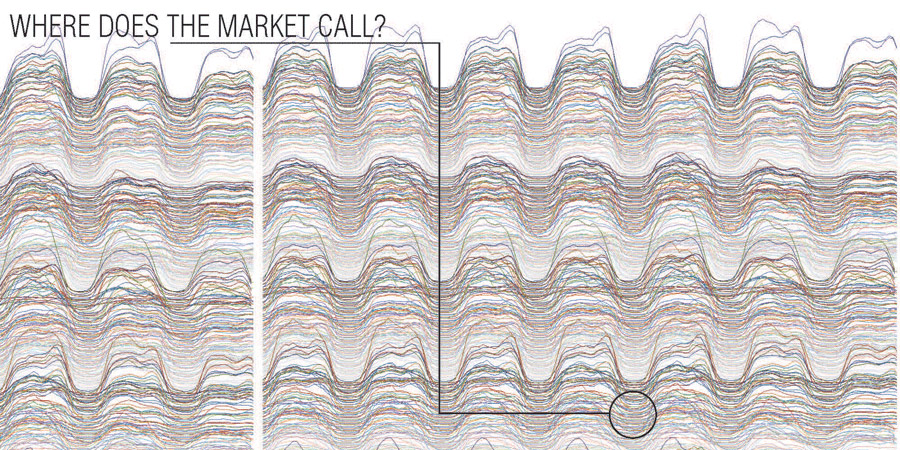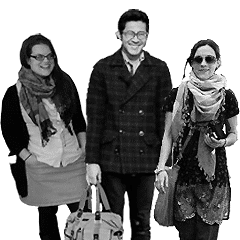 Cassandra Ballew
Raised as an Air Force brat, Cassandra began travelling and exploring different cities and cultures from an early age. This interest in culture, combined with the history and the built environment led her to Philadelphia where she studied Architecture. Her research here focused on sustainable design and the transformation of suburban typologies to help mitigate issues of sprawl, specifically in the city of Houston, Texas. After working professionally in Philadelphia and New York City, her work on several non-profit housing projects led her to pursue a Masters in Urban Planning. While here at Columbia, her research has focused on environmental planning and land use, through which she hopes to gain a better understanding of how architectural projects can better address environmental, social, political and economic issues.
Kazuki Sakamoto
Originally from Honolulu,Hawaii. Kaz received his Bachelors from the Univeristy of Rochester in Rochester, New York. His research in undergrad led him to pursue a bachelors in both biology and Ethno Musicology. After working he returned to school to pursue a Master of Urban Planning from Columbia University.
Lucrecia Montemayor Solano
Originally from Mexico. Lucrecia is a master Urban Planning student at GSAPP. She received a Mater in City Design and Social Science from the London School of Economics and has a B.A. in Architecture for the ITESM, Mexico. Her research interests include governance structures, urban regeneration and revitalization and housing policies. She is passionate about visualizing interesting data and an amateur film maker. Lucrecia worked as a consultant and research in the north of Mexico and as an architect/urban designer with Jose Castillo at arquitectura 911 in Mexico City. While here at Columbia, her research interests have been focused on how cities in developing countries cope with pressing urban issues such as rapid urban growth in Bangalore and the financial and institutional structures of housing in Mexico, Chile and Brazil.
The Market Calls…
Where does your food get produced/distributed/consumed?


For our project we decided to focus on the life in and around the Mercado de Abastos, which lies within the district of Iztapalapa in Mexico City. Our research this semester led us to discover that the market is an important part of daily life in the city. We created a graph of all the BTS towers over a week and found that the most active day of the week was Friday.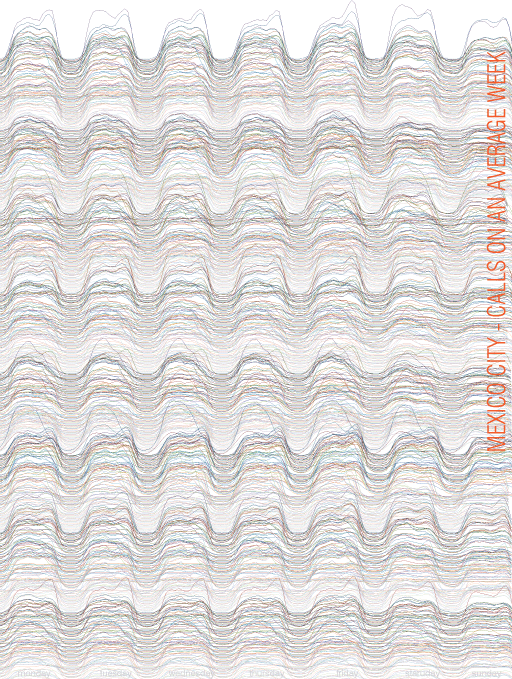 We then decided to explore this activity further by using kernel density heat maps to study the 24 hour cycle of activity on a Friday in Mexico City.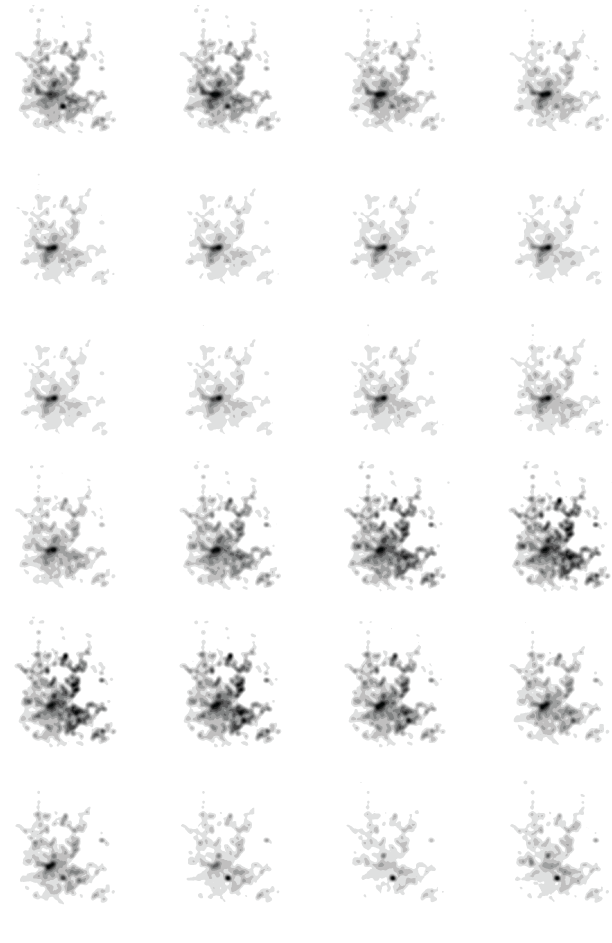 Through this density study, we noticed a significant amount of activity in Iztapalapa (particularly at 2am). To explore what was at the center of this hot spot on the kernel map, we did more analysis and found out it was the Mercado de Abastos.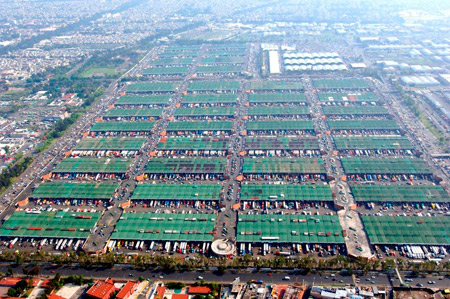 As a major distribution market, the Mercado de Abastos handles over 30,000 tons of merchandise daily and represents 80% of the consumption of the metropolitan area. The market also plays a role as an economic stabilizer, as it is currently the largest employer in Iztapalapa and one of the largest in Mexico City, generating over 70,000 direct jobs. Due to the large amount of foot traffic that the market generates each day, approximately 300,000 people, the area is one of the most congested in Mexico City. This not only affects the life of the consumer but it has also made it increasingly difficult for suppliers to get their goods to market.

To visualize the activity in and around the Mercado, we created a webpage through which producers, suppliers, retailers and consumers can learn more about the market. The webpage provides a platform where this audience can view a video illustrating our process and the market's activity on three different scales; neighborhood, city and country. Further exploration is possible through the websites additional pages. Each scale of analysis provides an additional video, showing a snapshot of the activity at that level. At the regional level, we show viewers where regional producers may be located.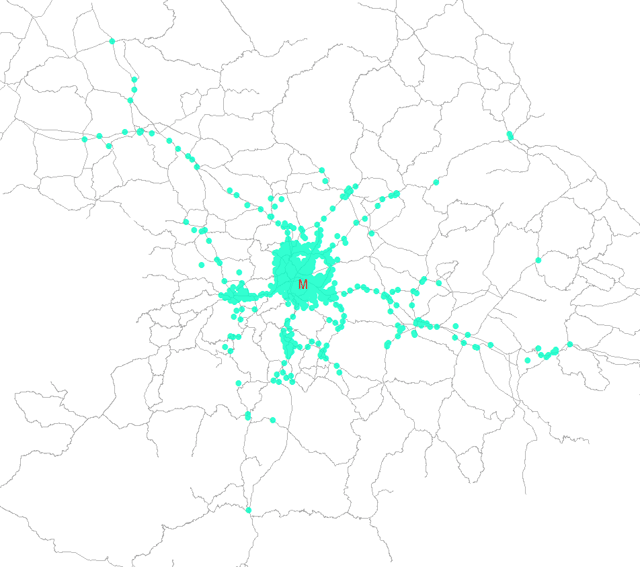 Snapshots of the three most active towers provide a more in-depth look at the areas in the region that may work most often with the Mercado. At the community level, viewers can see the Mercado's connection to other markets in the neighborhood.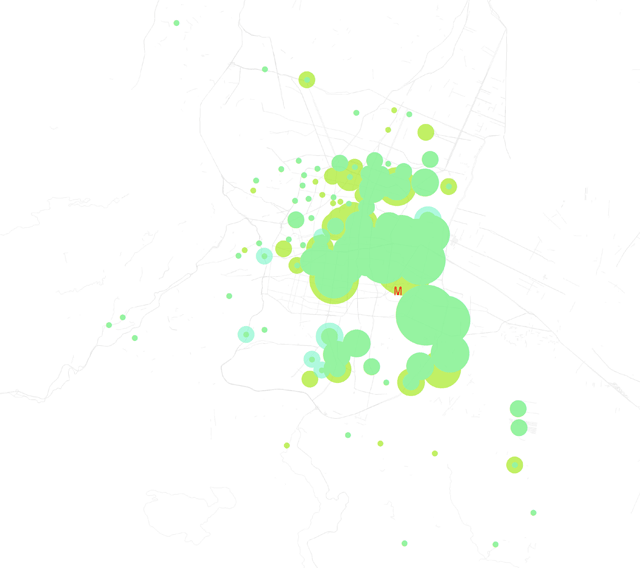 Since most producers from outside the city come to the Mercado to bring their goods for distribution, this level of analysis allows viewers to see which markets the Mercado distributes goods too and what they distribute. Finally, a through a webpage about the neighborhood using foursquare data, we have provided information on which restaurants the market works with to provide goods.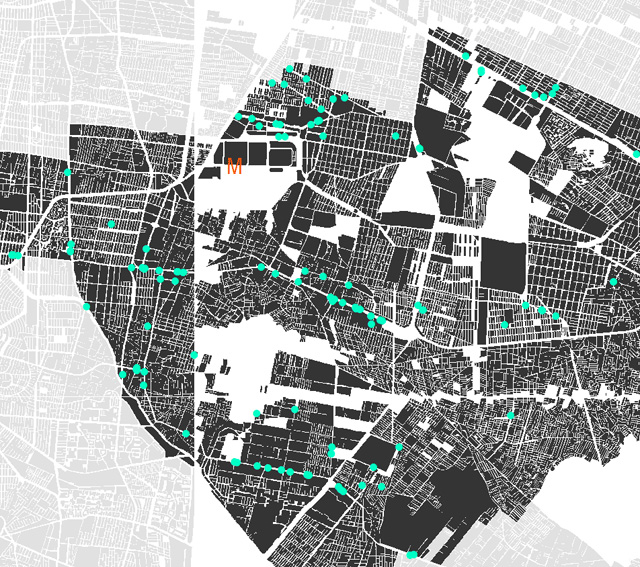 A snapshot into the most active check-in places related to the market has been highlighted. We hope that through our analysis we have provided a glimpse into the value of this market to Mexico City and how intricately it is tied to not only the neighborhood it resides in but to the city and the region.