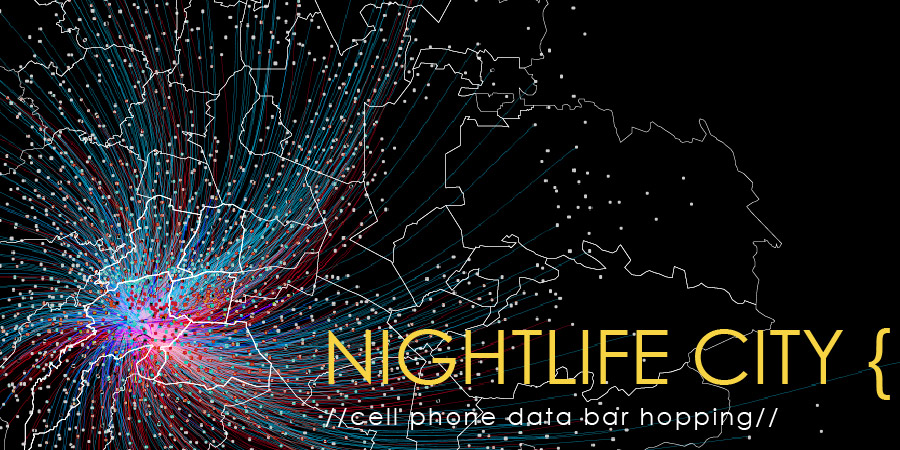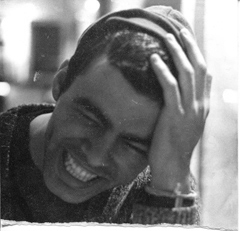 Kevin Cervantes
Kevin grew up in Los Angeles, CA. He Studied Architectural Sudies/History of Art & Architecture at Brown University. Now he is pursuing his M. Arch I at GSAPP at Columbia University.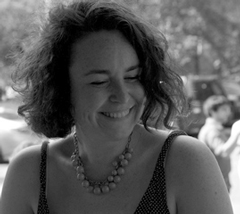 Maya Porath
Maya is currently living in New York City, where she is pursuing her MArch at GSAPP, Columbia University. She dreams of one day visiting Mexico City.
NIGHTLIFE CITY


In a city as large and vibrant as Mexico City, the nightlife options are endless. How do you choose where to go? Our visualization aims to identify and analyze the urban patterns that attest to the most popular hot spots for socializing. Whether you are a local or a tourist visiting for a few days; this visualization will evaluate mobility patterns within and between neighborhoods with well-established nightlife centers and those that are yet to garner such reputations. Our aim is to use cell phone data to identify elements of social behavior and follow these trends from afar, offering an opportunity to break the wall of exclusivity. The visualization helps to evaluate and analyze these elements that contribute to social barriers of exclusivity but also offers to break it by visualizing places off the beaten path that could more evenly distribute wealth. The neighborhoods sampled range from the well-established and wealthy Polanco to the more counter-culture and artistic neighborhood at the center of Coyoacan.


In the image above we've sampled particular BTS towers within nightlife hotspots. The blue swirls indicate movement flowing from the particular BTS tower, while the red swirls indicate movement flowing to the same point.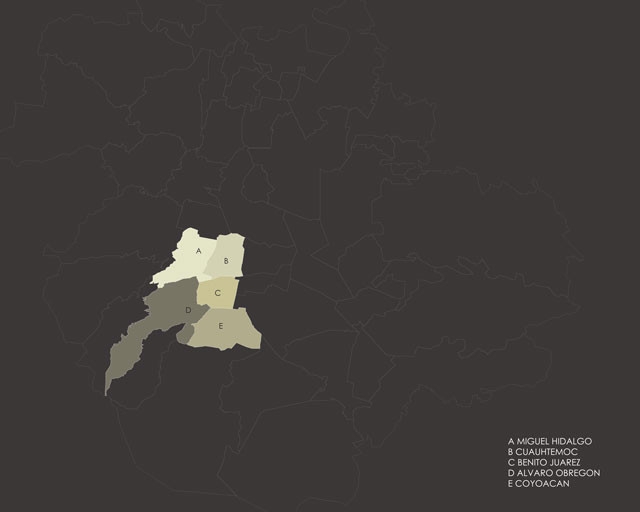 We selected four districts within Mexico City that showcase hubs of social activities. Miguel Hidalgo is home to the very affluent neighborhood known as Polanco, center of luxury boutiques, restaurants and nightlife. Cuauhtemoc encompasses the historic center of Mexico City and also contains many popular nightlife destinations in its infamous Zona Rosa neighborhood (most popular with tourists). Benito Jaurez is predominantly a residential district, home to many middle and upper middle class residents. However, its proximity to Cuauhtemoc and other popular nightlife destination to the south are converting it as a corridor for nightlife activity. Alvaron Obregon and Coyoacan have garnered a reputation for trendy and artistic nightlife. Given their proximity to institutions like UNAM (Universidad Nacional Autonoma de Mexico) these district house vibrant centers for students to go out in and explore. They also serve as an alternative to the more expensive nightlife options to the north.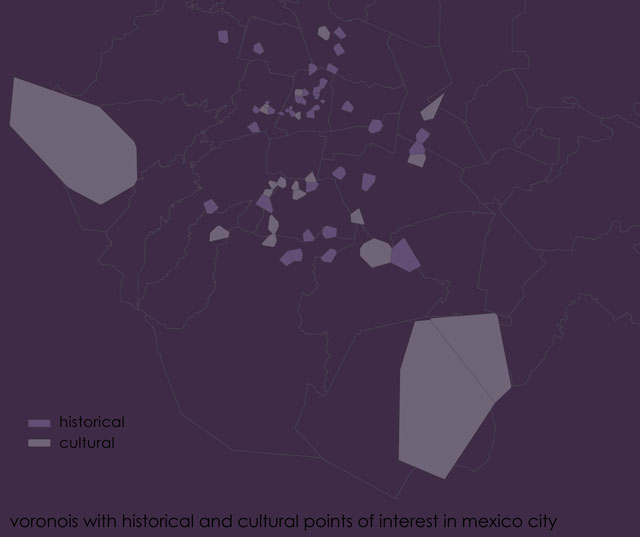 Data sketch illustrating points of interest in Mexico City. The darker polygons are historical points of interest and the lighter polygons are cultural points of interest. As the map indicates many of these shapes cluster around the center of the city.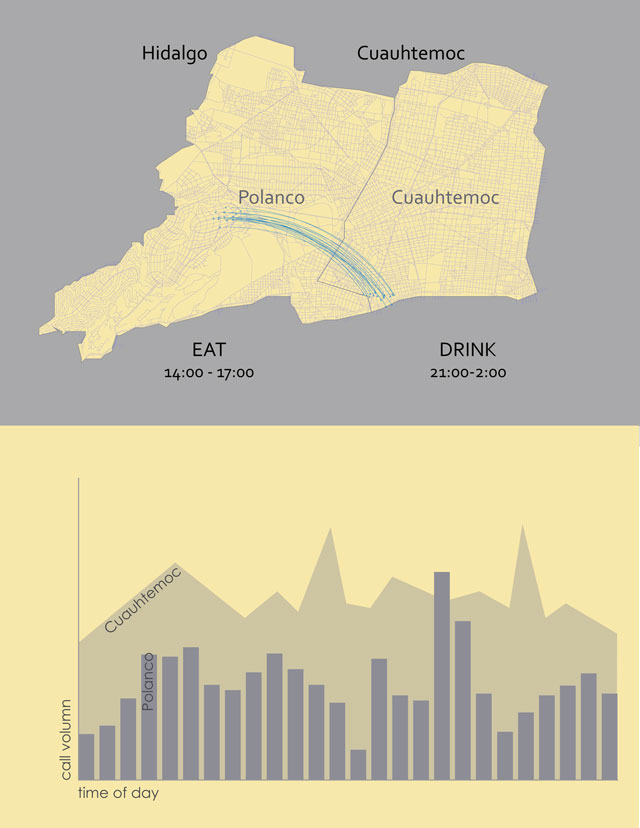 These initial process sketches illustrate expected movement between Polanco and Cuauhtemoc during times of day which we designated as social hours.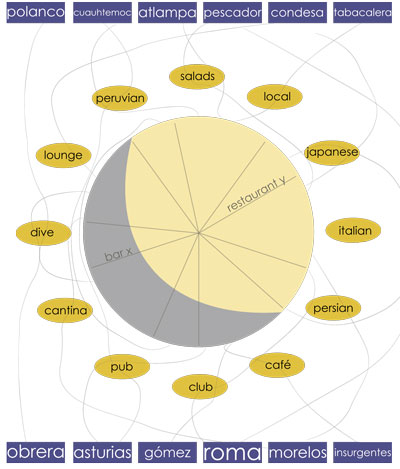 The circle was inspired by an infographic precedent. It draws connections between neighborhoods and the components which allow for a healthy nightlife (bars and restaurants).